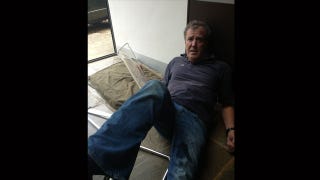 Another day, another picture of Jeremy Clarkson on the ground thanks to a broken chair. This time it appears his daughter Emily has included a more concrete explanation for how the Jezza ended up on the floor.
She included the following message with this picture of her outspoken father this morning
The Daily Mail was right. He is fat. It's happened again.
This is the Daily Mail article she's referencing. We still aren't positive if intoxication, weight or just a poor furniture decision are truly to blame for Clarkson's chair destruction, but we wouldn't be surprised to find out all three are somehow involved.
Hat tip to K5ING!
Photo Credit: @emclarkson1