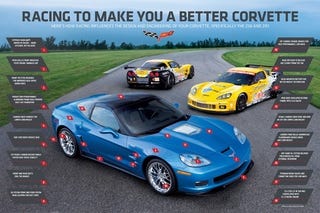 We've been told for years that without Corvette Racing there wouldn't be a Corvette ZR1 — or a Z06. Now, in honor of the updated C6.R, Corvette's put together a killer graphic showing us just how racing's made 'em better.
Click the image above to see it larger.

Much of it's fairly obvious stuff — exposed headlines, open grille, yada-yada-yada. But some of it's not so obvious — like carbon rocker panels for high-speed stability or the wider body developed in the wind tunnel with the C6.R.
All we know is they're both cool as hell, fast as hell and now we know where, precisely, the cloth was cut between these two Jake-emblazoned hellraisers.