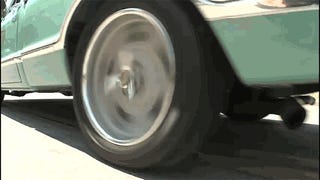 The good thing about Chevy's C10 pickups is that they are pretty and light. Add more power, a proper suspension and air-conditioning, and you got yourself a fast workhorse. Meet Holley Performance Products' own show truck.
It's basically a Corvette under the C10 body. A fuel-injected LS3 small block with a self-tuning ECU using Holley's big block camouflage linked to a modern transmission, coilovers, proper brakes and the fuel tank relocated from under the seat to make it safer than the 1967 standards.
To keep Jay happy, Holley also left the original steering column instead of GM's tilt-away version seen on so many restomods, plus this color is actually a stock paint from the '67 catalog.
A classy ride straight from Bowling Green, Kentucky. Love on the rocks.