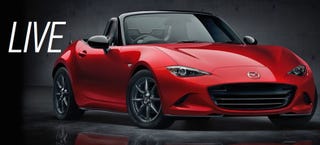 The 2016 Mazda Miata has finally been revealed, and the reception to its design seems to be nearly unanimously positive. That design was the responsibility of two men: Derek Jenkins and Julien Montousse. And now both are here to answer your questions on their latest creation.
Derek Jenkins is Mazda's Chief Designer and the man responsible if you love — or hate — the 2016 Miata. He's been at Mazda for five years and before that was in design at VW, where he made the 2001 Microbus concept. He also drives a Myers Manx. Hell yeah.
Julien Montousse is the Design Manager responsible for the interior of the new Miata. That glorious, glorious, new interior. Prior to Mazda, Julien worked in design at GM.
Want to know more about the ND Miata's design and what you like/don't like? This is the place to start. Julien and Derek will be here for the next 45 minutes, ask away!
Since we have two people, the answers will be coming from an account called MiataGuys. Answers will be signed by whoever answered them... That's not that hard to understand.