It's been a banner week for tiny animals being saved from perilous dangers, as this news breaks of a pilot holding up a flight because he didn't want to run over a little garter snake. And also, D'AWWW!
According to the New York Post, a San Francisco-to-New York flight was delayed because there was a six-inch snake on the runway. Rather than run over it, the pilot dispatched an airport worker to bag up the snake and rescue it.
The flight was only delayed for a few minutes, which probably sucked for that one person who had the misfortune of a connecting flight taking off within minutes of the first one (fuck yeah, Delta!), but no one else aboard seemed to notice according to a few live-tweets.
G/O Media may get a commission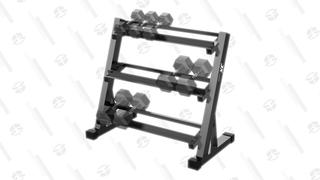 20% Off
JX Fitness Dumbbell Rack
Gains but tidy
Has a three-tier design to help store more weights more conveniently, can safely support up to 1000lbs of weight, which should be enough for most people, has a triangle base for stability, and also features anti-scratch feet which is great if you've built your own studio or workout in your garage.
As for the snake, we assume he or she is safe and sound with its snake brethren, careful to never again wander along the concrete road of death otherwise known as an airport runway.