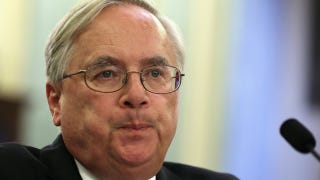 General Motors' top lawyer, Michael Millikin, will "retire" three months after being reamed by Congress for the automaker's inept handling of its deadly ignition switch debacle.
Mililani told GM that he plans to retire in 2015 after 37 years at the automaker where he took the top lawyer job a mere five days after the automaker declared bankruptcy in 2009.
The announcement comes after the GM Senate hearings in July where lawmakers asked how Millikin was unaware of the safety defects that led to the massive recall and at least 27 deaths.
Lawyers underneath him had been working on the ignition switch case for years, and authorized a payout of $5 million to settle with victims several months before – all of which, it's suspected, Millikin knew about. Although GM CEO Mary Barra and Millikin told the Senators that they weren't notified of the ignition switch recall until GM issued the recall in January.
GM said in a statement that it will begin "an external search for his replacement," along with Barra praising Millikin.
"Mike has been incredibly helpful over the past two decades," said Barra. "I find him a man of impeccable integrity, respectful candor, and unwavering loyalty."