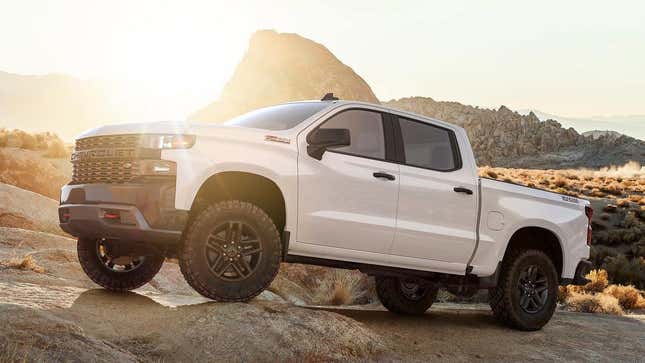 Pickup trucks are the blood that runs through Detroit automakers veins, and it's nearly impossible to see a future without them. With Ford and Rivian recently making all this noise about preparing to introduce electric trucks in the near future, General Motors doesn't want to feel left out.
That's why GM CEO Mary Barra made sure to bring up the topic in an investor call this week, touting her company's successes in both the pickup truck and electric vehicle markets. Here are some quotes from The Detroit News:
"GM has an industry-leading truck franchise and industry-leading electrification capabilities. I assure you we will not cede our leadership on either front," Barra said. "We intend to create an all-electric future that includes a complete range of EVs — including full-size pickups."

Barra said GM would share more on the electric pickup "when competitively appropriate." A GM spokesman declined to provide details on the new electric vehicle or the timing of its launch.

Ford has already made some noise about developing hybrid and electric variants of its F-150 pickup truck, and last week announced an investment of $500 million into Rivian, a startup American electric off-roading brand that's caused a bit of a frenzy lately with its R1T and R1S electric pickup and crossover concepts. The plan there is to develop a yet-unknown additional electric vehicle alongside Ford's current projects.

You may remember that GM was initially in talks to partner up with Rivian, but talks reportedly fell through because the terms of the deal would have prevented Rivian from working with other companies, as Bloomberg reported at the time.
While GM has yet to provide any details of its electric pickup plans, it did announce plans for 20 new electric vehicles by 2023, starting with a new Chevy Bolt-based vehicle.
There's just one more setback for GM that Ford and Rivian don't have to worry about yet, though. GM is already entering the phaseout stage of the U.S. electric vehicle federal tax credit, whereas both of the other companies still have thousands of EVs to sell before having to worry about it.
It's particularly topical that GM doesn't fall behind in the EV pickup truck game, as a slow rollout of its redesigned truck models were partially blamed for GM's first quarter earnings falling below expectations this week, as reported by Bloomberg.
I hope for GM's sake that failed deal with Rivian wasn't the only thing it was betting on.