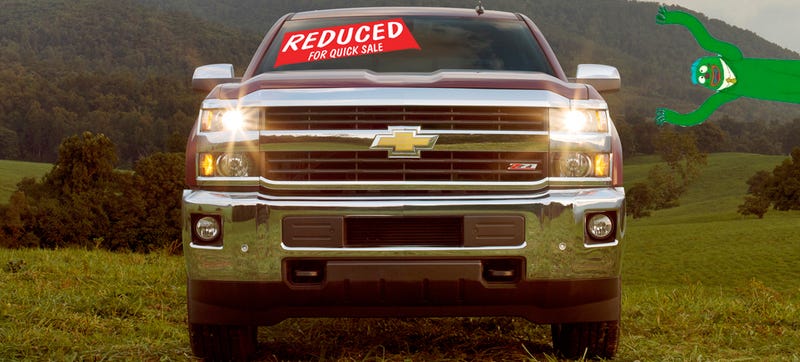 GM Spokesman Jim Cain spoke a bit hastily on Tuesday when Ram posted better March sales than Silverado, saying "It's really easy to deeply discount your truck... to buy market share." He better hope so, because that's exactly what Chevy is gonna try to do. Again.
Those clever devils at Automotive News got their hand on an email from a GM district manager, who was less than pleased with Ram swiping second place from them:
"Okay — time to take the gloves off and go back and take back what rightfully belongs to every one of you … Silverado truck sales," the GM district manager wrote.

The e-mail contained details of a regional lease offer that would put Silverado payments at $269 per month, with about $1,900 due at signing, compared with a Ram advertised lease of $259 per month, with $2,999 due at signing.

"Don't you think you can SELL and WIN potential truck buyers with what was announced," the GM district manager wrote. "I am asking for YOUR commitment this month TRUCK MONTH to market - promote and sell our Silverado's [sic]… dress 'em up on your front line and on your website… you will not be disappointed."
As you probably know, Chevrolet celebrated "Truck Month" in March, where they promote the hell out of their pickups. This year, Automotive News again derived that discounts on certain Silverados got as high as $7,541. That was before GM's guy called out Ram for "buying the market share" with discounts and subprime sales. Now in April, Chevy is boosting incentives even harder; with discounts up to $8,162 on double-cab Silverados and as much as $8,974 off the Silverado 2500 Heavy Duty diesel.
Ram's 42,532 sales over Silverado's 42,247 wasn't exactly a blowout last month, but it does represent a potentially-impending paradigm shift in the pickup truck market if Chevrolet starts loosing their grip on the Number Two spot they've held down since 1999.