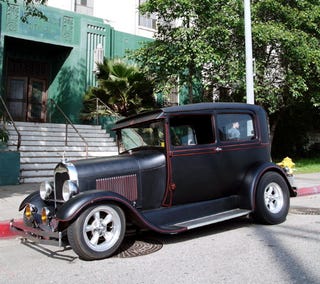 Somehow, we imagine Coop walking out of the Los Angeles City Jail in a cream suit and watching fedora with a brown band, sauntering down the steps and stepping into his Model A hot rod. Just then, his phone rings. A voice on the other end of the line asks, "Are you alone, Mr. Cooper?"
To which the artist replies, "Isn't everybody?"
More photos of the '29 Tudor (including the awesome phallosatano hood ornament) at the Positive Ape Index.
The Obligatory Hot Rod Photos [Positive Ape Index]
Related:
Coop Takes a Holiday Motor Excursion [Internal]