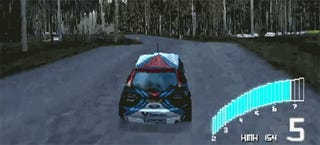 You went faster in these than in any real car you've ever driven.
---
10.) The Hornet That Went To Daytona
As long as your time has been extended, you're looking good.
Suggested By: themanwithsauce
---
9.) The Need For Speed: Most Wanted BMW M3 GTR
Even when things got a bit blurry, the sound of that M3 cut through.
Suggested By: 911TurboDreams

---
8.) The Halo Warthog
Plasma cannons or not, it is still miles better than Doug's Hummer.
Suggested By: DennyCrane
---
7.) The Cruis'n USA Ferrari Testarossa
There could be no care game without a Testarossa from the late eighties up to the first half of the nineties.
Suggested By: Deer-tay
---
6.) Sega Rally's Lancia soaked in Martini
Checkpoint, checkpoint, checkpoint...finish!!!
Suggested By: Dr. Kamiya
---
5.) The one and only GTA Stallion
You had to go Diablo.
Suggested By: Carcrasher88
---
4.) Talking of Diablos...
Here's an SV for those who were liked hot pursuits but no Ferraris.
Suggested By: athought123
---
3.) The Spy Hunter Mercedes
I mean, if I wanted to go spy hunting, I would take an Isdera as well...
Suggested By: As Du Volant
---
2.) The R34
Let's put it this way: The Skyline name wouldn't mean crap outside of Japan if it weren't for Gran Turismo.
Suggested By: cstealth
---
1.) Gran Turismo 2's Pikes Peak Escudo
One had to save up many coins to get this Suzuki.
Suggested By: FromCanadaWithLove
Welcome back to Answers of the Day - our daily Jalopnik feature where we take the best ten responses from the previous day's Question of the Day and shine it up to show off. It's by you and for you, the Jalopnik readers. Enjoy!Top Photo Credit: Colin McRae Rally 2
---
Contact the author at mate@jalopnik.com.