The 1958 Chevrolet was such a successful redesign that the company regained the sales lead from Ford that year due to its introduction. Today's Nice Price or Crack Pipe Biscayne could be your lead sale. That is, if the price is right.
Hi, I'd like to sell you this meticulously crafted and extremely tasty hot dog. It's $1,200. Did I mention it comes with diced Maui onions and is nitrate-free? Yeah, If you're going to be spending beaucoup beans for something, you better make sure it's damn-well worth it. Yesterday's OCD-level restored 1986 Toyota Turbo Truck wasn't. That at least was the opinion of fully 97% of you, who apparently aren't members of America's present oligarchy. The other 3%? I chalk that up to a rounding error.
There's no error in thinking that today's 1958 Chevy Biscayne is an excellent choice for Friday Night cruising, or grabbing a burger and shake down at the drive-in. In fact, that's just what the character Toad did in a similar but higher spec Impala in the classic flick, American Graffiti.
It's hard to imagine today as they do seem to be the de facto representatives of the '50s American automobile, but back in the day the '55-'57 Chevys, known as the Tri-fives, aka the Shoebox Chevys, actually ran neck and neck with the full-sized Fords in the effort to give each brand the sales supremacy. Ford won the battle in '57 owing to the Victoria debuting as an all-new model that year, but Chevy came storming back in '58 with their own newer, wider, longer, and more headlight-ier full-sized models.
G/O Media may get a commission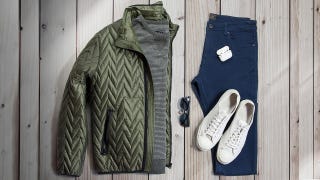 60% off
Jachs NY Fall Sale 60% Off
This 1958 Chevy is a Biscayne, a model name introduced that year to replace the low-end 210 of previous years. That means that it's not as fancy as Mr. Toad's wild ride, the Impala, but even down to the color, it still looks pretty much the part.
Unlike yesterday's clean-room created Toyota, this Chevy is a driver not a shower. There are a number of imperfections noted in the ad, including cracked side glass in the driver's door and something going on with the right front fender. Piling on are wipers that don't wipe, a possible bad harmonic balancer, and a few other issues that seem to be pretty minor.
Kudos to the seller to pointing out all the ugly as the car looks pretty sweet in the pics. Fifty eight was a one-year body style and introduced a new frame, coil rear suspension, and quad headlights, a first for a Chevy car. It was the year that the Chevy's fins started to droop, and it's the only year that can take '59 Caddy bullet tail lights, as this this one presently does.
Mechanically, the potentially sketchy harmonic balancer is attached to a rebuilt 327 and attached to that is a 3-speed THM. According to the ad the car originally came with a 283 and a 2-speed Powerglide so if matching numbers is your bag, then you probably should just keep on walking here.
The seller says the drivetrain is daily driver certified. He also says that the brakes have been replaced, including the master. That still looks to be the original style single-circuit unit so keep in mind that while potentially usable as a daily ride, you'd need to take a few of those days to get used to the old school brakes.
The Body - aside from that issue with the crack in the fender - seems excellent, and is claimed to have been taken down to the metal the last time it was resprayed. Wheels are heavily chromed 8-spoke alloys which are kind of take it or leave it, but then those are minor things to change if you don't like them.
The inside is equally clean, offering a pair of spacious benches and a floor-mounted shifter on the hump. The original AM radio offers visual nostalgia but apparently isn't working so your favorite oldies will have to come from your phone or your imagination.
In American Graffiti, Toad managed to get the car, get the girl, score her some booze, survive a fight, and eventually (SPOILER ALERT) go MIA in the 'Nam. Now I can't say that buying this Biscayne will make your life quite that adventurous, after all it's not a high-zoot Impala, but I can say that trying won't lighten your wallet too much.
The seller - who has done a pretty good job of painting this '58's condition in the ad - is asking $9,500 for the privilege of making it your own personal cruise-mobile. It's now time to decide if this car, as presented in that ad, seems worth that much. What do you think, is this Biscayne worth that many biscuits? Or, does that price turn this prince of a car into a toad?
You decide!
Altoona Fish Craigslist, or go here if the ad disappears.
H/T to nts5039 for the hookup!
Help me out with NPOCP. Click here to send a me a fixed-price tip, and remember to include your Kinja handle.