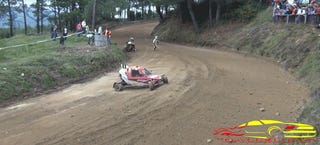 You've probably never heard of the Autocross o Castro, a small dirt buggy race held over the weekend in northwestern Spain. There is no good reason to keep up with such a low-level event. Here's how things escalated um, whoa, escalated really quickly.
As you can see in the vid, two drivers get into it with each other and crash into a berm. This would be a good time for the competitors to look around them, appreciate their beautiful and temperate corner of the world, and reflect on the joys of racing in a free country.
Nope.
Jumping karate kick to the nuts.
Things eventually get broken up, possibly by a race dad interjecting on his son's behalf.
Whatever is said between the two drivers, whatever injustice inflicted upon one by the other, just remember to never hop out of your car and take off your helmet on a hot track.