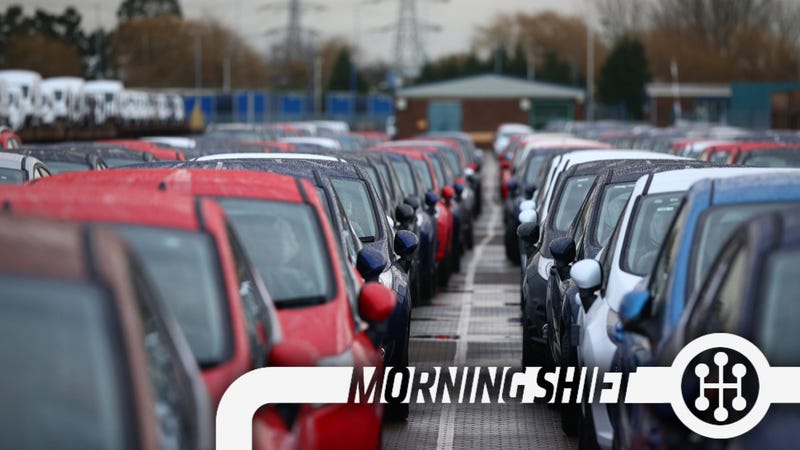 The Morning Shift
All your daily car news in one convenient place. Isn't your time more important?
Good Morning! Welcome to The Morning Shift, your roundup of the auto news you crave, all in one place every weekday morning. Here are the important stories you need to know.

1st Gear: Europe is back?
The Americas and Asia recovered fairly quickly from the Carpocalypse of a few years ago. Europe, not so much. Back in 2014, we noted that when it came to automotive economics, Europe "is like one of those boats in a Charlie Chaplin movie that springs a new leak every time one gets covered up."
But could the leaks be covered up for good?
Almost definitely not! But Automotive News reports that European car sales are up 6.3 percent:
European car sales rose 6.3 percent to 1.09 million vehicles in January, industry data showed today, even as Volkswagen Group saw registrations of VW-brand cars fall 4 percent in the wake of the automaker's emissions scandal.

Volkswagen, in case you were hit by a fairly severe blow to the head, was caught cheating on diesels emissions. So while nearly everyone else seems to have seen a rise in sales, VW is plunging. The Spanish market shows the most extreme disparity, AN notes. While automotive demand is up 12 percent, sales of SEAT, Volkswagen's Spanish subsidiary, are down 17 percent.
This past January marked the 29th consecutive months of European automotive sales growth, so we're probably overdue for another European collapse.
2nd Gear: Rest In Peace, John Riccardo
Former Chrysler president and chairman John Riccardo died Saturday at age 91, the Detroit Free Press reports. Riccardo headed up Chrysler during the 1970s, which was not an easy time at the company. Not only was it hit with the oil crisis of 1973, but it nearly went bankrupt. Things got so bad, in fact, that they brought in Neil Armstrong – yeah, that Neil Armstrong, the moon guy – to help them sell cars. But he also approved Chrysler's K-cars, which saved the company despite general awfulness.
3rd Gear: Takata Engineer Pleads The Fifth
An engineer privy to a lawsuit against Takata due to its faulty airbags is refusing to testify due to fears of self-incrimination. Bloomberg has the story:
Lawyers for accident victims claim Takata withheld or doctored bad test results before and after the company's air bag inflators began exploding, spewing shrapnel into drivers and passengers in accidents in the U.S. and elsewhere.


Al Bernat, an auto safety specialist at Takata sought as a key witness on multiple tests, refused to testify in a deposition in the lawsuit, citing his Fifth Amendment right not to incriminate himself, Ted Leopold, a lawyer for the victim, said at a court hearing Friday in Jacksonville, Florida.

...

Bernat was described in a November 2014 New York Times story as supervising secret tests of inflators in 2004 that showed unexpected ruptures. The test results weren't disclosed. Takata disputed the report and said Bernat's integrity had been "unfairly questioned on the basis of two anonymous sources.''
Presuming his innocence, it's still not a good look for Takata, in the court of public opinion.
4th Gear: Young People Are Bad With Money
Shocking headline, I know. But once you get over that piece of raw, burning truth, consider the findings of a new study which says that people who live in college towns – i.e., students – overspend on cars, and people who live in affluent cities – i.e., people with more money, who are a little older and a little wiser – don't. From Automotive News:
People living in college towns tend to overspend on vehicles, while more affluent cities tend to be more frugal.

That's the seemingly contrary conclusion of a new study by personal finance website WalletHub. The study analyzed 2,750 U.S. cities to figure out where American car buyers spend too much on a new vehicle.

The study found that college towns — including West Lafayette, Ind., East Lansing, Mich., State College, Pa., and Morgantown, W. Va. — have among the highest auto-loan-debt-to-income ratios.

College students should have to walk everywhere they go, anyways. That's what I used to do, back in my day. Walked 15 miles to school. In the snow, with no shoes on. It was uphill BOTH WAYS.
The moral of the story here is "don't be a dumb college kid taking the first $25,000 loan someone throws in your lap. Get one of these, instead. It has all-wheel-drive and says 'turbo' on the side. You'll be happy, and not poor. Well, not as poor."
5th Gear: Advertising Will Save America
If you asked us, we'd probably tell you that the Chevrolet Malibu and the Chrysler 200 are alright, at best. A lot of consumers would probably tell you the same thing as well. To convince them otherwise, GM and Chrysler have hit upon a new idea. No, not better cars. Ads!
Both Chevrolet and Chrysler launched unconventional ad campaigns over the weekend aimed at boosting sales of passenger cars at a time when sales of SUVs and crossovers are soaring.

Chevrolet is taking its message to movie theaters, while Chrysler is using two actors who played presidents in movies for three new ads with a President's Day theme.

In fairness to GM, Malibu sales are up 24 percent over the last example of the car. It also helps, though, that there's a new car to sell.
Movies are great places to put ads, because the people are stuck there and can't escape, no matter how desperately they try to claw their way out of the marketing onslaught. President's Day is also good for ads, conventional thinking would tell you, although I'm just going to assume it's because February is dreadfully boring and there's nothing else on television.
Reverse: Young Jeff Gordon Wins A Race
On February 16, 1997, 25-year-old Jeff Gordon claims his first Daytona 500 victory, becoming the youngest winner in the history of the 200-lap, 500-mile National Association for Stock Car Auto Racing (NASCAR) event, dubbed the "Super Bowl of stock car racing." Driving his No. 24 Chevrolet Monte Carlo for the Hendrick Motorsports racing team, Gordon recorded an average speed of 148.295 mph and took home prize money of more than $377,000. According to NASCAR.com, Gordon was "a veritable babe in a field that included 27 drivers older than 35, 16 at least 40." Gordon's Hendrick teammates Terry Labonte and Ricky Craven finished the race second and third, respectively.

Neutral: What Was Your Poor Automotive Economic Decision?
We all have stories about money we shouldn't have spent on cars, when a better automotive decision was staring us straight in the face. What's your story?
Photo credit: Getty Images
---
Contact the author at ballaban@jalopnik.com.
Public PGP key
PGP fingerprint: 0D03 F37B 4C96 021E 4292 7B12 E080 0D0B 5968 F14E