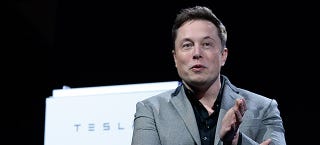 During today's investor call for Tesla's Q1 earnings, Elon Musk was asked about Apple's possible foray into cars. His response: "I certainly hope Apple gets into the car business. That'd be great."
Musk noted that Tesla has recruited, according to him, five times as many people from Apple as Apple has recruited from Tesla. "It's easy to find out at LinkedIn," says Musk.
Musk mentioned Tesla's plans to show the Model 3 in March of next year and plans to begin sales in March of 2017, but that we "shouldn't hold" him to it – it's a hope, after all, and Tesla hasn't always been consistent about delivering on time.
---
Contact the author at damon@jalopnik.com.
Public PGP key
PGP fingerprint: 7301 D7FC 2FF6 D437 E5A7 0568 3A14 624A 1800 4C85