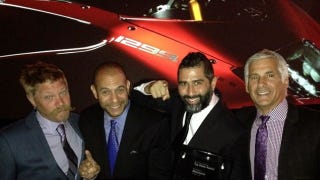 We love the guys at MotoCorsa. They're the Portland Ducati dealer that took the 1199 Panigale S, added some knobby tires, and made a $25k off-roading superbike. But in the process of celebrating their win as the top-selling Ducati dealer in the U.S., they blew the lid of the brand's newest superbike.
Four members of the MotoCorsa team posed for a photo with their awards, but didn't pay attention to the background which prominently featured the rumored 1299 Panigale. The pic was posted to Facebook before they realized the gaff and uploaded a cropped photo with the new superbike's nameplate out of the shot. But on the internet, everything lives forever, and VisorDown snagged the pic.
Whoops.
The 1299 should be making its official debut at the EICMA motorcycle show in November, with an extra 100cc of displacement over the 1199 (obviously). If the rumors are to be believed, that bump should net an extra 10 hp, putting it around 205 hp, replacing the hardened 1199 Panigale R and likely running in the 2015 World Superbike races.