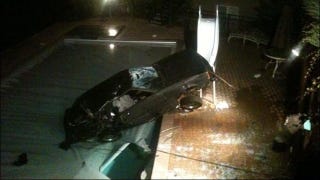 A Washington man is being charged with driving under the influence and leaving the scene of an accident after flying over a fence in his vintage Toyota Corolla and landing in a covered swimming pool 25 feet below.
According to KPIC.com, the crash occurred around 4am Friday morning. Amazingly by the time Police and the Fire Department arrived the driver—23 year old Eric Brown—had already fled the scene on foot. It didn't take long for police to catch up with Brown walking nearby at which time they noticed "an overwhelming smell of alcohol".
It's hard to believe it from the looks of the mangled car in the pool, but Brown escaped any serious injury. The remains of the Toyota were hoisted out by crane yesterday and the damage to the pool and surrounding area is surprisingly minor.
The unfortunate homeowners—who were awoken by the loud noise of the crash—took had a surprisingly rational response to finding an old Toyota in their pool. Susan Goodwin told KPIC she was glad Brown crashed into their pool instead of "getting on the road and crashing into somebody."