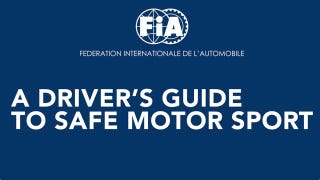 The latest edition of the FIA's A Driver's Guide to Safe Motor Sport has just been published. It's a short, very good read if you're considering getting into any sort of motorsport, covering basics like helmets, fireproof suits, good shoes, attention, and, of course, the management of your precious bodily fluids.
The guide is illustrated with Sergio Pérez's huge crash in qualification at the 2011 Monaco Grand Prix, a rather understated way of showing how far safety in motor sport has come: while Pérez was out of the race and decided not to take part in the one after, the almost exactly same crash of Karl Wendlinger at the 1994 Monaco Grand Prix put the Austrian driver in a coma for weeks and basically ended his Formula One career.
A Driver's Guide is not about Formula One. It's for everyone racing a car in any sort of way. And remember: "It is a good idea to empty the bladder and bowels before driving…nerves may act as natural reminders of this." Kimi Räikkönen must be an enthusiastic reader.
You can download a PDF of the guide from the FIA's website.