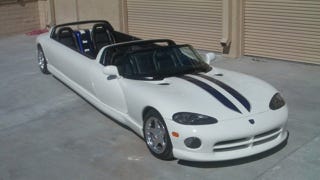 It seems for almost every kind of car you can imagine somewhere, someone has attempted to turn it into a limo. Some attempts succeed, others fail miserably, but either way the results can be pretty bizarre.
This Viper limo we discovered on GTspirit.com is surely an example of the stranger variety of custom limousines . What was once a normal two passenger first generation Dodge Viper RT/10 is now a 25 foot long limo capable of carrying 12 passengers.


This stretched Viper was built by Unique Movie Cars, whose vehicles have been featured in movies such as Back To The Future, Days of Thunder, and Cannonball Run among others. We're not sure if this Viper has a future in film or was built just because, but we're pretty positive it's the only one of its kind.
The odd limo made its "official debut" at last weekend's Sam's Town 300 NASCAR race in Las Vegas. We certainly could not have dreamed up a more appropriate venue to show off a custom Viper limo.