James Sikes, the San Diego runaway Toyota Prius driver, filed for bankruptcy in 2008 and now has over $700,000 in debt. According to one anonymous tipster, we're also told he hasn't been making payments on his Prius. UPDATE!
We received an email earlier today from an anonymous tipster who claims James (Jim) Sikes, the driver of the runaway Toyota Prius, was in financial trouble and even behind by five months on his payments for the Prius. If that's true, it's potential motivation for wanting to find an out — any out — on paying for the vehicle.
We did some public records searches (thanks to the help of Gawker's John Cook) and found Sikes and his wife Patty found themselves, like many in the California real estate business, on the bursting side of the real estate bubble last year. The two declared bankruptcy in June of 2008 and have a combined liability of over $700,000 dollars in debt.
Among the list of creditors holding secured claims is none other than Toyota Financial Services for a lease on a 2008 Toyota Prius with 7,200 miles on the odometer. Total value of the lease at the time of bankruptcy was $20,494.
G/O Media may get a commission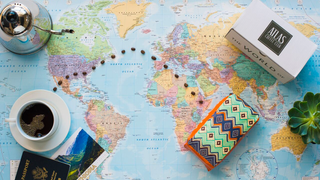 First Bag Free
Atlas Coffee Club - Free Coffee
Explore global coffee
With each bag, Atlas includes details on the coffee's tasting notes and a postcard about the region and its coffee history. And when you subscribe, you have options to tailor frequency, grind size, and roast preference of your beans, so you'll always be brewing the perfect cup.
So, with almost three-quarter million dollars in debt there's obviously the potential for financial motivation here. But, for his part, when we questioned Mr. Sikes over email earlier today, he denied being behind on his Prius payments.
Mr. Sikes also has not shied away from cameras appearing on CNN and numerous other television programs. In each, he's stated numerous times he's not going to sue and isn't looking for any financial remuneration from Toyota other than a new vehicle.
We've asked the law firm representing him to furnish us with an up-to-date copy of his Toyota statement and we'll post that as soon as we receive it — to either debunk this myth or add fuel to any fire.
We'd also like to point out Toyota itself sent out a tweet yesterday showing how a Prius of that generation can easily be stopped if it's accelerating out of control. But, for the moment, we'll ask you to again listen to the full 911 tape and tell us what you think — does that sound like a man faking or genuinely afraid for his life?
But regardless of what happens with the Sikes case, the bigger issue for Toyota will be every cash-strapped 'yota-owner looking for an easy out on their loans and leases potentially thinking about doing just this with their car. That's a lot of potential carnage to wade through.
UPDATE: We're now hearing rumors that Sikes has a history of items in his possession being stolen and him filing for insurance claims. We found at least one case of this in his bankruptcy documents, which we've included below. We're told we should know more about a second incident shortly.


But there's also another, more salacious tidbit we've found which may or may not be irrelevant — we're still trying to fit this piece into the puzzle. With a tip from a commenter at TTAC, we discovered Sikes owned and operated a web site called AdultSwingLife.com. Interesting. There's also a report from KTLX with a neighbor stating he may have been involved in the porn industry. Someone alleging to be a former business partner also claims Sikes stole from their company and acted fraudulently.