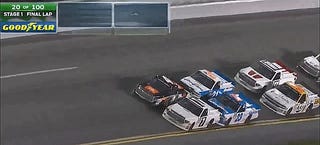 Johnny Sauter won NASCAR's very first stage ever after only 20 laps of the Camping World Trucks season opener at Daytona International Speedway. That being said, how many of his opponents are going to be around for the next two stages? There have already been two big wrecks.
The No. 23 truck of Spencer Gallagher got into the rear of the No. 7 of Brett Moffitt right in front of the field, causing a chain reaction that sent Christopher Bell's truck (No. 4) spinning into the air.

NASCAR no longer allows teams to spend more than five minutes repairing sheet metal in the pit lane after a crash, so many trucks in need of lengthier repairs are having to retire.
With twenty laps of pure chaos, who's even going to be left at the end of this 100-lap race?