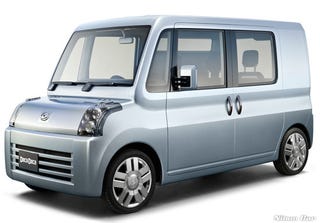 For the 2009 Tokyo Motor Show, the Daihatsu Basket and Deca Deca aren't breaking new ground, just doing a good job of reinterpreting originals with contemporary design.
[gallery 5380561]
The Daihatsu Basket is a sort of Mini Moke reinterpretation, but you can also see some Honda Vamos and Citroen Mehari around the front and Nissan Figaro in its front to rear symmetry. It looks like the concept could fit into the Japanese Kei class for 660cc or below cars and comes with a removable hard top for front seat occupants and a folding soft top for the rear cargo area/seats.

The inspiration for the square, yet not symmetrical Daihatsu Deca Deca is more direct, it's a riff on the Nissan Cube design theme, although here with more top heavy proportions and a shorter hood. It also has the Cube beat on interior flexibility. Instead of that car's utterly conventional two-rows of seats and normal doors, the Deca Deca features huge suicide doors that give massive access to the flat floor/foldaway seats interior. Like the Cube, expect all this to be massively conventionalized to keep costs down should it ever reach production.
[Daihatsu via Nihon Car]