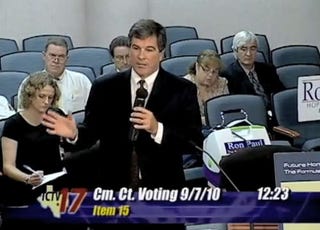 The unfrozen caveman lawyer representing the organizers behind the U.S. Grand Prix in Austin faces down the Travis County Commissioners Court. Watch as they mock his transparent bullshit and lack of plans.
In order to get the U.S. Grand Prix built and running in time for the planned 2012 date the organizers behind it — a group of people who make Sammy Sosa look talkative — have to start building it in December. To start building they need to climb though a Legends of the Hidden Temple level of bureaucracy. Unfortunately someone didn't listen to Olmec because they're just now starting to talk to the County Comissioners and everyone else about the environmental, economic, and crazy traffic impact on the area.
They're pretty obviously hoping their connection with the state government and metric crap-ton of money will help them out. Here's hoping they're right, because the county government isn't buying it so far.