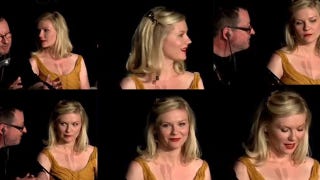 Generally speaking, admitting your support of the Nazi regime is a terrible idea. Doing so while promoting the movie you directed starring Kirsten Dunst after its premiere at the Cannes Film Festival? That's some hardcore career self-assassination. But it's not without its bright sides, namely, this animated GIF wall of Dunst's reactions, all of which could be captioned "Did You Smell That, Too?" Deciphering the excited utterances of others led to our premier comment of today from one (Mecha) Spiegel regarding Japanese track tests:
I don't speak Japanese, but I am able to understand what they are saying by the way they say it. Their tone of voice, laughter, sighing, whimpering can tell more about how they feel about their vehicle than they could ever say.

Kinoshita (LF-A): WHEEEEE—ohshitohshitohshit...we're good. WHEEEEEEEE

Hattori (Corvette): WHYYYYYYYYYY I SWEAR ON MY VARIOUS GODS I WON'T GAMBLE AGAIN

Tanaka (430): Hey guys! I'm enj—*cut to someone more important*

Tsuchiya (GT-R): ...you already know what's going to happen. *wink*

Ada (911): Ok pedal, then shift — shit no, um...shift then ped— NO! WHY IS IT SO COMPLICATED!??!?