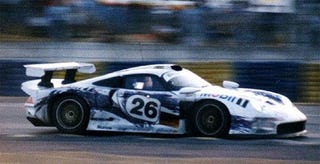 As much time as I spend spouting off about classic Le Mans races, I get mad at myself for not spending enough time keeping up with current Le Mans efforts, especially the GT classes. Sure, I'm fairly busy — and every time I turn on the Speed Channel they're showing NASCAR — but still, I should pay much more attention. And then write about it. I mean, everyone dug the LeMons coverage, right?
Earlier today, Matt "I Drink Blood" Hardigree showed us my new desktop those stunning picks of the Gulf Oil liveried Aston Martin DB9R that will be competing in the kick-ass GT1 class. Can you remember a prettier modern car? Besides the Alfa 8C? And you just know that the 600+ hp 6.0-liter V12 sounds like Jesse Ventura's "Old Painless" from Predator. We know he's already won COTD once this week, but the above realizations led ash78 to say:
That looks like it went over the $500 limit.
That's why he wins twice.