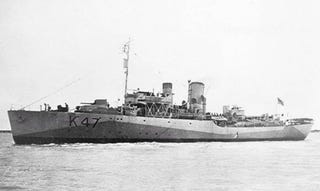 The HMS Polyanthus was a Corvette type ship of the Flower class escorting a convoy through the North Atlantic under the command of the Royal Naval Reserves. Around midnight in September 21, 1943 it was preyed upon by a German U-Boat and was quickly dispatched. One crew member survived and was picked up by the HMS Itchen from the cold water near Greenland. Just two days later the Itchen was the victim of a different U-Boat. While two survivors of the 227 men on the Itchen, which included many survivors, were picked up by a Canadian ship the original survivor didn't make it. Among the individuals originally lost on the Polyanthus was Graham Shepard, whose father E. H. Shepard is famous for originally drawing Winnie-the-Pooh. We have a feeling E.H. would not have appreciated the violent turn Winnie took, though Paul Jones did.
Dude, that's not Winnie the Pooh. That's Winnie the Shit.
Do not steal his honey.
Photo Credit: OldShips.org.uk