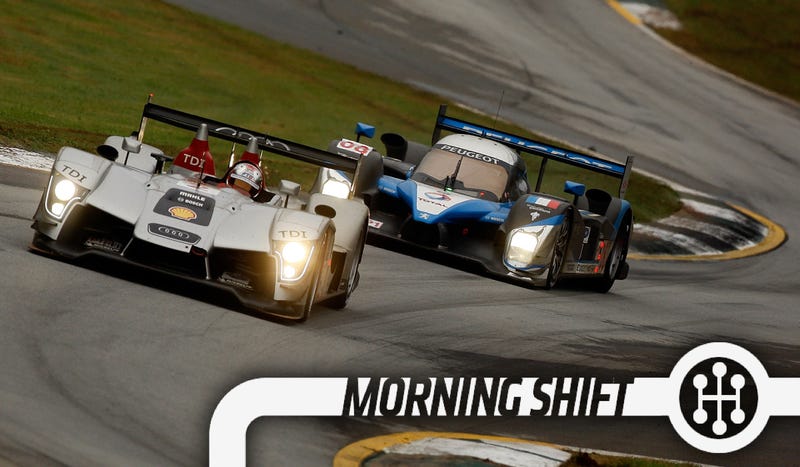 The Morning Shift
All your daily car news in one convenient place. Isn't your time more important?
This is The Morning Shift, our one-stop daily roundup of all the auto news that's actually important — all in one place at 9:00 AM. Or, you could spend all day waiting for other sites to parse it out to you one story at a time. Isn't your time more important?
1st Gear: Coda Electric Files For Chapter 11
Late last year little electric car maker Coda laid off pretty much every employee it could to keep the lights on. Now things have gotten worse: Coda has filed for bankruptcy. Here's the ominous message on their website.
Coda already has a plan for bankruptcy, and that plan mainly involves getting out of building cars. It sounds like they'll refocus on energy storage and will "build systems for utilities and building operators to share power." Here's to hoping it works out better for them.
2nd Gear: Are We Entering Some Sort Of Diesel Golden Age?
We love diesels around here because of all the usable power and the great sound. It seems more people are coming around and liking them now too.
Between 2010 and 2012, diesel sales in the USA rose 24 percent, which is 640,779 units in 2010 to 796,794 in 2012. It's not Earth-shattering, but it is a pretty good amount of growth. Of course, VW and its beigekrieg leads the way with cars like the Jetta and Golf TDI. The number of diesel cars in the US is set to increase with Mazda adding a 6 this year as well as a number of others dipping their toes in the diesel water. Oil burners FTW!
3rd Gear: Lincoln Expects A Big April
The Lincoln MKZ has been the opposite of what you'd call a "sales success" so far this year. Lincoln expects all of that to change in April. When sales figures are released later today, they expect that the Fusion-based sedan will have a big jump in sales.
Like, they expect that they sold 4,000 of them. I hope they're right, because Lincoln really needs a hit. I'm a little skeptical because I've only seen one privately owned MKZ on the road, but we'll find out soon enough!
4th Gear: GM's China Plan
It's no secret that to succeed in the modern automotive marketplace, automakers need to look at markets that aren't the USA. Specifically, that market is China.
GM is using China in a different way though: It's becoming an export base.
That's right, GM is admitting that we could very soon see Chinese-built GM models on the floor in American dealers. And whenever you say "Chinese-built," "GM," and "in American dealers," you better be ready for a political backlash from both sides. It'll be interesting to see how this pans out.
5th Gear: Everyone Wants Better Fuel Mileage
In the past, Americans couldn't care less about how good their fuel mileage was. Well, the times, they are a'changin'.
Now, 88 percent of consumers care, and 59 percent really care when it comes to mileage in their next car. That's good, since CAFE requirements will make better mileage a requirement in the coming years.
Reverse: Ford Starts The 40 Hour Week
On this day in 1926, Ford Motor Company becomes one of the first companies in America to adopt a five-day, 40-hour week for workers in its automotive factories. The policy would be extended to Ford's office workers the following August.
Neutral: Fuel Mileage Thoughts
So the majority of America says that fuel mileage will be a major consideration in their next car purchase. But will it be a factor in your next car purchase?