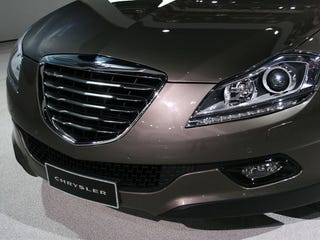 According to Fiat/Chrysler boss Sergio Marchionne, Chrysler and Lancia are likely to merge by the end of the year. Also, the Chrysler Guido shown at the Detroit Auto Show may actually be built. Seriously.
Marchionne said: "We could see the two converge as early as the end of the year." He added that the move would make sense because each marquee has gaps in its range that could be filled by the other. "In Europe, Lancia is an undersized, underdeveloped brand, with nothing bigger than the Delta. Chrysler, which has a true global reach, has nothing smaller. Put them together and you have a full line-up," he said.
There is also a chance the Chrysler-badged Lancia Delta shown at Detroit could be sold in the US. "The rebadged Delta could quite possibly make a Chrysler vehicle," said Marchionne, who added that there would be no conflict with Lancia.
"Let's get this straight," he said. "I'm not selling any Lancias in the US. There's no structural conflict." [via Autocar]