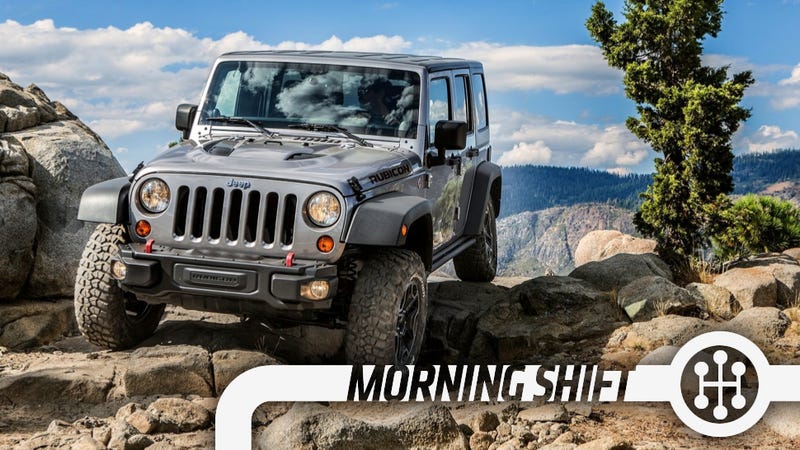 This is The Morning Shift, our one-stop daily roundup of all the auto news that's actually important — all in one place at 9:00 AM. Or, you could spend all day waiting for other sites to parse it out to you one story at a time. Isn't your time more important?
1st Gear: All Three American Automakers Gained Market Share
The fortunes at Ford, GM, and Chrysler this last quarter were all markedly different, but there was one constant: Increased market share.
That's no small accomplishment as, according to Craig Trudell in this report, this is the first time all of The Big Three swept the first three months of a year in 20 years (back when people were gobbling up Explorers and other SUVs).
Even more interesting is where those gains were made, with Honda and Toyota both losing ground to Detroit's automakers. This is a reversal of a generational trend that saw American families trading in their Fords for Toyota Camrys in droves. Ford is doing the best with a 0.7 percentage point increase market share, followed by GM at 0.5 and Chrysler at 0.2.
All it took was massive restructuring and bankruptcy. We've spoken about how Ford is making a comeback, but let's take a closer look at GM and Chrysler.
2nd Gear: GM's Product Onslaught
Though Ford is the clear leader, GM still sells more cars than either of its crosstown rivals despite aging product. The company is fully aware that the key to growth is to follow Ford's example and release as many new and competitive products. Ford's reaping what it sows, but GM is still sowing.
As reported by Melissa Burden this morning, 70% of GM's U.S. portfolio will be refreshed between 2012 and the end of this year and 89% by 2016.
The biggest challenges will be to build a better Malibu and to move the new 2014 Chevy Impala</>, which we found to be pretty damn good.
Manufacturing of the new Silverado should also give them a boost.
3rd Gear: Chrysler's Product Slaughter
Chrysler is in the worst position of the trio, having introduced much "new" product but not yet in full production of those vehicles. Per The Wall Street Journal, idled factories and high retooling costs led to a drop in profits of 65% year-over-year. Although, any profit is a good profit.
Chrysler was neglected both by Daimler and Cerberus, neither of whom made the kind of investments necessary to make a profitable company. Now that there's demand for Chrysler's vehicles they've got to produce enough vehicle to make demand.
It's a better problem to have than no demand, but it's still meant a weaker quarter for Chrysler than expected. Once the new Ram HD and Jeep Cherokee roll out analysts expect the company to improve.
4th Gear: Ford's Burmese Daze
From The Detroit Free Press we learn that Ford's looking for customers where no American automaker has gone since the 1940s, when American-built military vehicles edged into then-Burma as part of WWII and, even then, it wasn't a major field of operations for the U.S.
How will Ford assure a quarter safe out there in what's now Myanmar? They're partnering with a company that will distribute F-Series and global Ranger pickups (made in Thailand), first with a dealership in Yangon.
From 1962 to 2011, the country was ruled by a military Junta. Now it's under the auspices of a new government and, although it's far from a modern democracy, the U.S. has lifted sanctions and companies smell profits. With 60 million residents (although, mostly poor) it's a new market where there's little competition.
5th Gear: Did Pelata Fall On His Sword To Save Ghosn?
One of the more intriguing stories today comes from Mark Rechtin who reports in Automotive News that former Nissan-Renault COO Patrick Pelata essentially took the hit for his boss, Nissan-Renault CEO Carlos Ghosn, during the big spy case back in 2008.
Essentially three execs were fired for corporate espionage they likely didn't commit and accused of selling trade secrets they didn't sell.
The French government wanted Ghosn to resign but, without Ghosn, the partially French-owned automaker was going to be lost. Therefore Pelata, in what seems his own view, became the scapegoat.
Reverse: The Land Rover Series I Debuts
The Land Rover, a British-made all-terrain vehicle that will earn a reputation for its use in exotic locales, debuts at an auto show in Amsterdam on April 30, 1948. The first Land Rover, known as the Series 1, was the brainchild of Maurice Wilks, the head designer for the British car company Rover, of which his brother Spencer Wilks was the managing director. Maurice Wilks used an old American-made Willys-Overland Jeep to do work at his farm in England. However, the Jeep was plagued by mechanical problems and Wilks decided to design a more reliable vehicle. He intended it to be used for farm work and be more versatile than a tractor. The resulting Land Rover, known as the Series 1, had a boxy, utilitarian design, four-wheel drive and a canvas roof.
[History]
Neutral: Which U.S. Automaker WIll Be The Most Successful Next Year? Ford's taken an early lead, but will it hold? What about GM's new products or the Jeep Cherokee? Can they make a difference?
Photo Credit: Getty Images