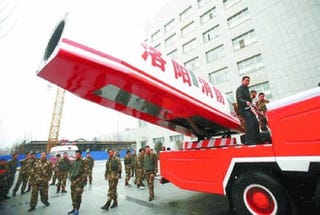 Next time someone calls for a Chinese fire drill, duck. China has a new weapon to fight skyscraper blazes, a fire truck topped with a gun that can squirt three tons of water per minute. Price? Under a half-mill.
The turbo-jet water gun gets its force from a jet fighter engine. Recently deployed in Luoyang, Henan Province, this bit of apparatus cost around 3 million yuan, or a very reasonable-sounding $455,539. The gun can rotate almost 360 degrees and throw the water stream a distance of 120 meters.
Indeed, China's growing need for such a fire tool is nothing to laugh at. Back in November, 42 people died in a Shanghai skyscraper blaze. A strong confidence-builder, like, say a mondo piece of jet-age apparatus, will likely help assure China's new urban dwellers that high-rise living is safe, so they can get on with the many administrative duties of world domination.
[via GizChina]