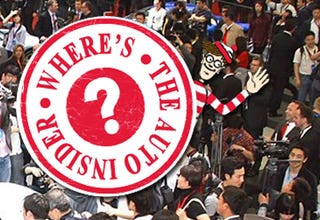 I was spotted by our friends at WCF in Shanghai. Do they know who I am? Nope, but here's a hint: I've got a smaller butt than the recently revealed Porsche Panamera.
So where am I you ask? I'm not telling, but expect finding me to be harder than trying to find Waldo from our last little scavenger hunt. Do you get a prize for finding me? Nope. Will you be the envy of all your friends? Perhaps, depending on who your friends are. Is there a prize? Only the one in your heart from knowing the true identity of The Auto Insider.
One final tip. The latest theory that Ray Wert and I are one and the same? Drop it faster than you can think of a killer COTD. Since I was in Shanghai, and Ray Wert was not, don't even waste your time looking for our GT-R-humping boss-man.
Now, if only I could get an entry in Wikipedia too!