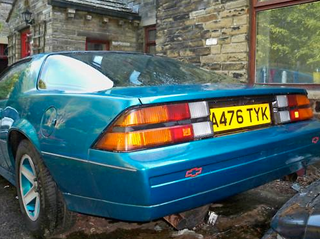 No, really. It's not a joke, it's not "murdered out," and it's not a really old meme. This '83 Chevrolet Camaro belonged to David Prowse, the man who played Darth Vader in Star Wars. Wanna buy it?
OK, so that's a bit misleading: Prowse, who was recently banned from Lucasfilm events for burning "too many bridges," only half-played Darth Vader — he was the man inside the suit, and James Earl Jones provided the voice. But still. Vader. Bring the nasty 'ol F-body to me. You get the point.
The car, a 1983 Z/28 5.0 HO, is an automatic-transmission-equipped, left-hand-drive model that appears to have originally been sold in Britain. It was formerly owned by Prowse, and according to the eBay UK listing, it has ties to British actor Norman Wisdom. Does it run? Hell no! Does it need work? Hell yes! Has it been repainted? Apparently so! Has it been beaten into the ground?
We'll let you make that call. (250,000 miles and a few rusty panels. Just sayin'. Remember, the ability to destroy a Camaro is insignificant next to the power of the Force.)