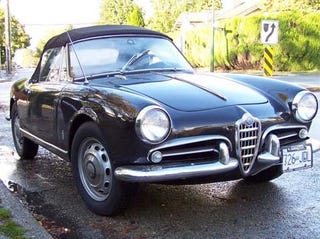 Here are some more DOTS Bonus Edition photos that have been waiting for quite a while; Benson2175 spotted what appears to be a very nice early-60s Alfa Romeo Giulietta Spider up there in British Columbia and had camera at the ready. Which was pretty cool and all, but then he went and found a La Forza SUV. A what? Yeah, that's what we said, too. Make the jump for more photos



Benson1275 says about the La Forza:

I ran across this extrememly rare Laforza italian luxury SUV from the eighties. Actually I thought it was some kind of russian vehicle because the panel gaps were so big. It'sfor sale.