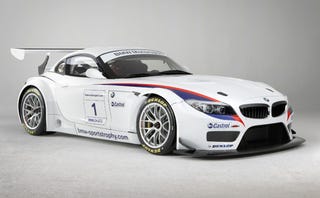 This BMW Z4 GT3 comes fitted with the 4.0-liter V8 out of the M3. In race trim that engine sends 480 HP through a six-speed sequential gearbox. So, wait, why can't we have a Z4 M again?
[gallery 5484885]This Z4 GT3 will be campaigned in FIA GT3 by Schubert Motorsport, who previously ran an M3. It's likely that the smaller, lighter, more clownshoe-like Z4 can be even faster around tracks than it's Mlier brother.
Previously, it's been suggested by BMW that there would be no M version of the 2009 BMW Z4 because the M3's V8 wouldn't fit in the new engine bay. With that excuse apparently debunked, does this make such a vehicle a possibility? Probably not, but we'd still kill for a lightweight hard top version of the Z4, even if we had to have it with the 335 HP inline-six out of the 2011 BMW Z4 sDrive35is.
Want to compete in your very own Z4 GT3? Better have deep pockets, they're $408,000 before tax.