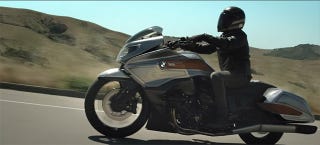 In addition to showing off the hot mess that is the CSL Hommage at Concorso d'Eleganza Villa d'Este, BMW tapped its California design studio and Roland Sands to create a bagger using the bones and inline-six of the K 1600 GT.

Underneath the molded wood, aluminum and carbon fiber is the 1,649 cc mill from BMW's uber-tourer. BMW says the name Concept 101 comes from two things: first, highway 101 in California and second, the fact that the engine is the equivalent of 101 cubic inches of displacement. (Carry the one… yup!)
There's not much more to go on besides the styling, and BMW hasn't released any official pics just yet, so we only have this video to go on.
---
Contact the author at damon@jalopnik.com.
Public PGP key
PGP fingerprint: 7301 D7FC 2FF6 D437 E5A7 0568 3A14 624A 1800 4C85