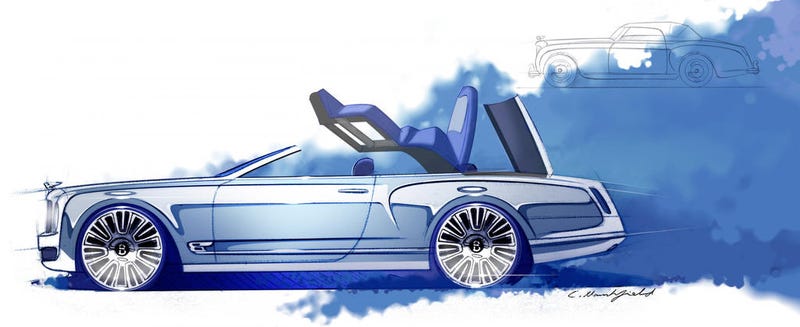 Put down your champagne and think of a way to tell your butler the bad news: There will not be a Bentley Mulsanne Convertible in your garage anytime soon.
Bentley had shown a Mulsanne Convertible concept to a private audience at Pebble Beach 2012 and began to gauge interest from buyers. While there was interest from people in Europe and the USA, it just wasn't enough. The Mulsanne is already a niche vehicle that sells about 1,000 worldwide each year, so the convertible would be even more niche.
Plus, Bentley sees dollar signs with their upcoming SUV which will become the new Toyota Corolla of China and other growing economies.
What the cancellation of the Mulsanne Convertible might be is a Porsche situation. Of course, Porsche was planning on going back to Le Mans in the early 2000s, but cancelled the project to develop the Cayenne instead. That allowed them to produce the Carrera GT, Cayman, Panamera, and go back to Le Mans next year.
So if the SUV is a hit, I'd expect the Mulsanne Convertible could still come back.
Have your maid stop drying your tears.