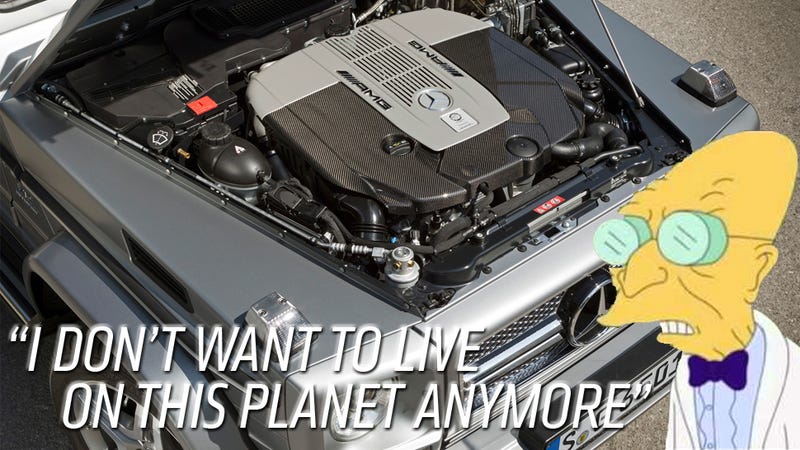 Truck Yeah
The trucks are good!
The Mercedes G63 is exactly as awful to drive as you'd think a lifted Jeep with sports car tires would be, but it's only the second biggest joke the company plays on customers. The worst offender would be the G65, and rumor has it that's coming to American dealerships for 2016.
Automotive News is saying "company sources" told them the 612 hp V12-powered breadbox Mercedes sells for something like $350,000 in Germany is being prepped to port into the American auto market.
That's right– the same 6.0-liter V12 that's in the goram Pagani Huayra, in full-time 4WD off-road truck with low range! I know it sounds weirdly awesome but I promise you, the G63 is handful in the very worst of ways and I'm having a hard time reckoning "moar power" solves any of its problems.
That MSRP isn't a typo either, go ahead and download the 6 megabyte PDF price-list if you don't believe me!
Mercedes could have homologated their humble G350 BlueTEC diesel G-Wagen and had themselves an upscale Jeep and Touareg competitor. But no, they had to go and use their powers for evil. My neck hurts from head-shaking after reading this news.
Maybe this rumor is only that and the offensively awful G63's bad-influence cousin will stay overseas. But as much as I'd like to deny it, they'll probably be able to sell at least one here... and that should cover the cost of crash-testing and road-readying them for the US market.
Image: Andrew P. Collins (Graphics from Mercedes-Benz/Futurama)