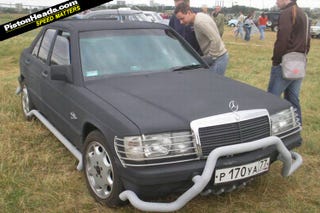 There's an old Russian saying, "There are no roads in Russia, only directions." Keep that in mind as you examine this SUVified Mercedes 190E. Sure it can make it over the Urals, but we're the ones who need the vodka.
There's no add-on transaxle, but the Russian owner did chop the rear, raise the ride height and slap on some larger Merc alloys. He also applied the taillights from a 1990s S-class. As if all that wasn't hack enough, he slathered it in stove-black paint and welded on moose bars enough to foul an entire herd's migration.
At least now he has a proper vehicle in which to retrace the Novgorodians' fur-trading route to Yugra during the annual Solikamsk salt festival. Budem zdorovy!
[via PistonHeads]