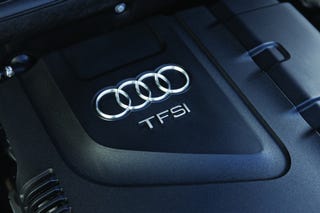 Audi's 3.2 Liter V6 is conspicuously absent from the US Order Guide for the 2010 A3, A4 and TT. Instead, those models rely exclusively on the 2.0T. Who knew Audi buyers were so miserly?
According to dealers, the 3.2-Liter V6 just wasn't selling, with the 2.0T being spec'd over it 9:1. In the 2009 Audi A4, the 3.2 barely outperformed the 2.0T, reaching 60 in 6.3 seconds compared to 6.7 for a comparably equipped 2.0T. The four-cylinder is more fuel efficient too, with auto-equipped A4 Quattros returning 23 MPG combined to the V6's 20 MPG. The V6 carried a $3,350 premium in that model.

Apparently there's no plans to put the A6's 3.0T in the A4 for fear of cannibalizing future S4 sales.
Thanks for the tip, David!