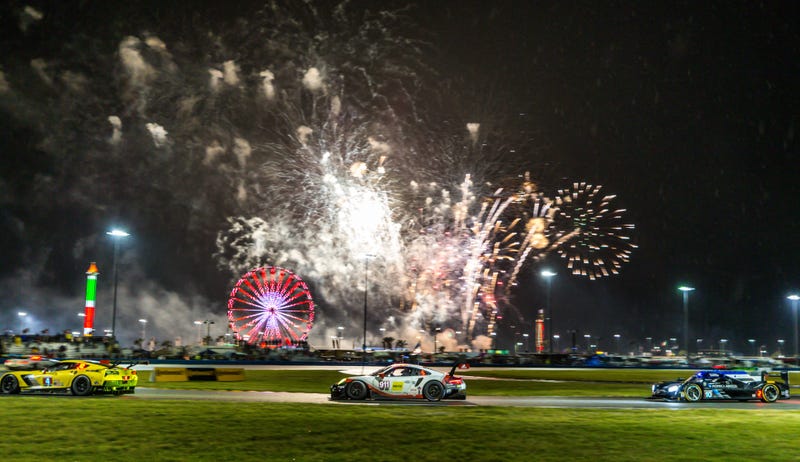 We've given glorious, questionable advice (the best kind!) on how to stay up for an entire 24-hour race before, but that's not necessarily the best plan for everyone—especially the drivers. How do they survive these long, grueling weekends? We asked Corvette Racing's Mike Rockenfeller how he copes.
Rockenfeller, who won both the 24 Hours of Daytona and the 24 Hours of Le Mans in 2010, has been doing this race for 15 years. He does a mix of endurance (cycling, running, etc.) and strength training before the race and in the offseason. Racing is far more physically taxing than it looks. Continuous G-forces that you get from taking corners at speed for hour after hour will wear you down. The goal is to stay healthy before the race as well, and don't get sick. Racing while sick sucks!

But as for the race itself goes, Rockenfeller offered a simple piece of advice: get as much sleep as possible the night before. That's what we tried before this one, and I'm still awake (for now).

Drivers don't typically stay up for all of the race, however. They're supposed to be as alert as possible in the car—otherwise, you start to get more dumb moments like the crash that bumped Brendon Hartley's No. 22 Nissan Onroak DPi out of the lead a couple hours ago. You can't have a brain fart behind the wheel of a race car and expect to have a shot at the win. You need to be as well-rested as possible.

As soon as he's out of the car, Rockenfeller goes to sleep. It's hard—he's pumped up full of adrenaline from being in the car, but he does all he can to calm back down. First, he talks to the race engineer, debriefing his stint. Then he showers, and attempts to sleep.
Sleep is tough for drivers at day-long events, as it can be interrupted if he's needed earlier than his stint is done—say, a yellow flag or on-track incident messes with a team's strategy, and they need to swap driver order on the fly.
There's a whole little trailer park of RVs on-site at Daytona that's used by drivers and teams. Of course, most of us don't have that luxury, but we're also not racing, either. Sad!

So far, Team Jalopnik's solution has been lots of caffeine and the possibility (that I don't want to consider) of a brief catnap. Either way, we're going to do lots of sleeping after this race is all over.