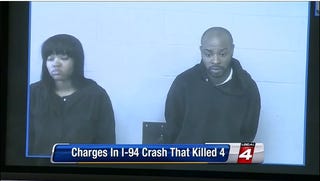 Remember last fall when a woman's car went airborne over a freeway embankment while she was driving away from her boyfriend that was chasing her, causing the deaths of four people? Both the boyfriend and girlfriend are being charged with second-degree murder.
In the chase, 24-year-old JeQuis Mayes was being pursued by 28-year-old Erroll Millner in the middle of the night. Mayes' car, carrying three other passengers, flew over I-94 and landed on top of a pickup truck, killing the three passengers inside.
One of Mayes' passengers was killed as well. Now, according to WDIV, Mayes and Millner will be arraigned in court.
In addition to second-degree murder, the pair are also charged with operating a vehicle while intoxicated, causing death; and homicide manslaughter with a vehicle. With 24 counts between them, both face life behind bars.