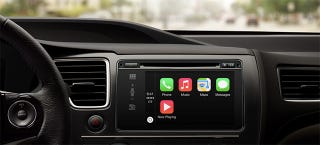 At its big developer's conference today, Apple announced new functionalities to CarPlay, it's just too bad you can't buy a new car with it installed yet – unless you own a Ferrari.

Apple is adding support for different display sizes along with high-resolution screens, and it also reiterated that owners will be able to ditch the cable and run CarPlay wirelessly. That was already announced last year, and it presumably runs over Bluetooth and presumably locks out the phone's screen, just like it does when plugged in over USB.
The biggest news is Apple opening up CarPlay to automaker's apps, which could include everything from HVAC to stereo controls, or just extending their existing apps to the big screen in the dash.
However, for all of these features, you need a CarPlay-compatible car, and while Apple has nearly every automaker on board, the only cars that offer it are from Ferrari, with the rest shipping later this year.
---
Contact the author at damon@jalopnik.com.
Public PGP key
PGP fingerprint: 7301 D7FC 2FF6 D437 E5A7 0568 3A14 624A 1800 4C85