You bitched and moaned during the first round of America's Next Top Car Blogger, but now it's your turn to have your voice directly heard. Vote for your two finalists below.
They said it couldn't be done. And we responded by tellin' 'em, "well, that's the reason, son!" Then you worried whether we'd see quality this weekend. Sure enough, our 20 semi-finalists stood up at the plate and shot some Major League-sized hits. But which ones were out of the park, which ones were bunts and which ones were tee-ing up tired and hackneyed sports analogies because they've been working three weekends in a row? Now it's your turn to choose.
Take another look through this weekend's 20 semi-finalists, then pick two to face off against each other in competing weekends for a chance to become America's Next Top Car Blogger and win the $10,000 contract.
G/O Media may get a commission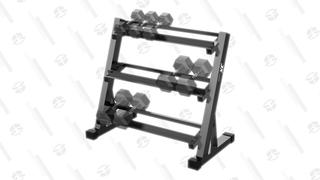 20% Off
JX Fitness Dumbbell Rack
Gains but tidy
Has a three-tier design to help store more weights more conveniently, can safely support up to 1000lbs of weight, which should be enough for most people, has a triangle base for stability, and also features anti-scratch feet which is great if you've built your own studio or workout in your garage.
Voting ends Friday, October 22nd at 9:00 AM EST. The top vote-getter will decide whether he wants to blog the weekend of October 23rd or the weekend of the 30th.