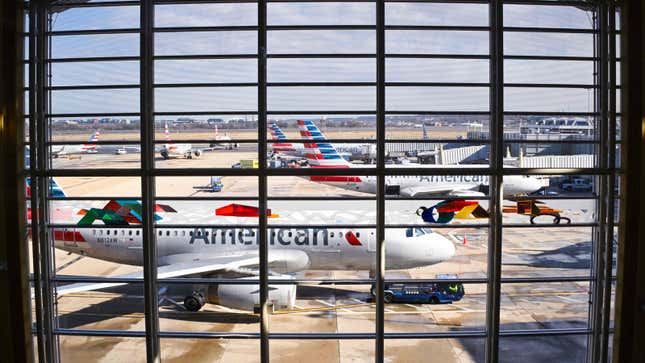 If you thought the travel troubles around winter storms were rough, just wait until you hear what happens when a nationwide warning system goes down: chaos, that's what. This morning, a cross-country system that warns pilots about hazards in the air or at airports went down and the Federal Aviation Administration (FAA) responded by pausing all domestic departures. Update: Flights have resumed; see below.

This meant that between 7:19 am ET and roughly 9:00 am ET, more than 3,500 flights were delayed, according to NBC News. A further 500 flights within, into, or out of the country were also canceled.
The order to suspend departures didn't affect planes that were already in the air, reports Reuters. These flights were able to continue to their destination.
The disruptions are being attributed to a system-wide outage in the FAA's Notice to Air Missions (NOTAM) system, which the agency says pilots check to find out about hazards in the air before they depart. According to NBC News:
The FAA said on its website that its Notice to Air Missions (NOTAM) system had "failed." NOTAM contains information essential to workers involved in flight operations.
At 6:29 am, the FAA announced that it was working to restore the system, but that national air operation "remained limited." At 7:19 am, it then gave the order to "pause all domestic departures until 9 a.m. Eastern Time" while it restored the system.
In an update, the FAA said it was "making progress." The agency tweeted:
The FAA is making progress in restoring its Notice to Air Missions system following an overnight outage. Departures are resuming at @EWRairport and @ATLairport due to air traffic congestion in those areas. We expect departures to resume at other airports at 9 a.m. ET.
Following the outage, White House press secretary Karine Jean-Pierre took to Twitter to announce that president Joe Biden had ordered the Department Of Transportation to conduct a full investigation into the cause.
Update, 8:52 a.m.: The FAA tweeted that "normal air traffic operations are resuming gradually," and that the "ground stop has been lifted."