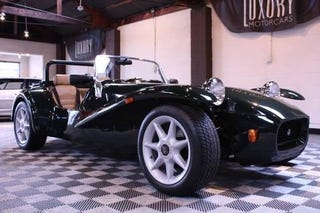 Nice Price Or Crack Pipe
Is this used car a good deal? You decide!
The most physically taxing no-no on the list of seven deadly sins is that of Gluttony. Today Nice Price or Crack Pipe has a Westfield Se7en that is free from sin, but might make you British Racing Green with envy.
Turns out, yesterday's Chattanooga Choo-Choo-modified El Camino only stops at the crack pipe station, and fewer than 24% of you were willing to get on board that tri-toned truck. Maybe if it hadn't had the Tennessee tuxedo paint job - which the seller seemed to think added value – it would have had a different outcome. A different outcome is expected today as we have a car that's also somewhat mythical to Jalopnikadians, but isn't quite so formally dressed as that Chevy.
The legend goes that, while developing the Lotus Se7en, Colin Chapman kept demanding that tubes be removed from the frame. One by one, cross members and diagonals were cut from the bare structure, until finally, unable to support its own weight, it collapsed. "Put that last one back in" Chapman directed, and the rest is history.
Whether there's any truth to that, or if it was really about the precedent VI, or the concurrent Eleven, it still makes for good theater, and it illuminates the fact that the Se7en's chassis was remarkably light, as was the car overall.
Few cars outlive their makers, a couple of notable exceptions being the Avanti and the aforementioned Se7en – and yes, I'm going to be spelling it that way through the whole post, so get over it. As the sixties strutted their plaid bellbottoms into the history books, Colin Chapman set Lotus on the path to higher unit profits by taking their model line up-market. He needed to do this to fund the real reason for the road car enterprise- Lotus' racing efforts. In doing so, the last vestiges of the company's kit-car beginnings were cast aside, and the rights and tooling for the Se7en were sold to Caterham Cars, who continue limited production to this day. Other makers built homage cars - Dutton, Elfin and even Netherlands-based Donkervoort, proving that intellectual property rights were a gray area in the pre-EU days.
One of the companies that built a righteous replica of the Series II car was Kingswinford-based Westfield, which did see a court battle with rights-holder Caterham over the design of the Westfield. Settled out of court, with undisclosed terms, the Westfield was redesigned and actually improved over the original so as to no longer encroach on Caterham's design.
Today we have a 1996 Westfield SPa that has been titled as an innocuous '65 Lotus for smog and safety reasons. Powered by a proper cross-flow 1600, the car's 1,350-lbs should be no match for the be-Weber'd Ford's 115-bhp.
Assembled as a kit by Westfield's N.A. Operation in Oregon back in '96, this car comes with a five speed gearbox of unknown origin, discs at each corner, and Westfield's own IRS set up, which resides just about right under the driver's and passenger's asses. The fiberglass body (what little of it there is) is splashed with appropriate BRG paint, and the car comes with a full top and side curtains, but if you've ever tried to get in or out of a Se7en with them in place you'd probably just leave both at home. Overall the car looks to be in beautiful condition, and in fact appears to have won "1st Place Lotus" at the 2008 United British Sports Car Club event. Mileage? Who cares?
Now, as some of you know, Caterhams are not cheap. And original, documented, Lotus Se7ens can cost a kidney these days. The Westfield (now part of Potenza Sports Cars) may not be as well known a Se7en-builder as the big-C, but their SEi and SEiGHT cars routinely show up as best-of in the British mags.
So, what would it cost for you to wedge your lard-ass down between transmission tunnel and thin fiberglass body panel? Would it require your first born, or for the seller to spend a night with your smokin'-hot wife, for you to wrap your hands around that fat, leather steering wheel and experience the joys of go-kart-like handling?
No, all it would take is for you to write a check for $18,995, plus tax and license.
What do you think, does that price – at a little more than $14 per pound – make it a car without sin? Or, does that make the seller guilty of the twin sins of greed and pride?
You decide!
Sacramento Craigslist, or go here if the ad disappears.
Help me out with NPOCP. Click here to send a me a tip, and remember to include your commenter handle.