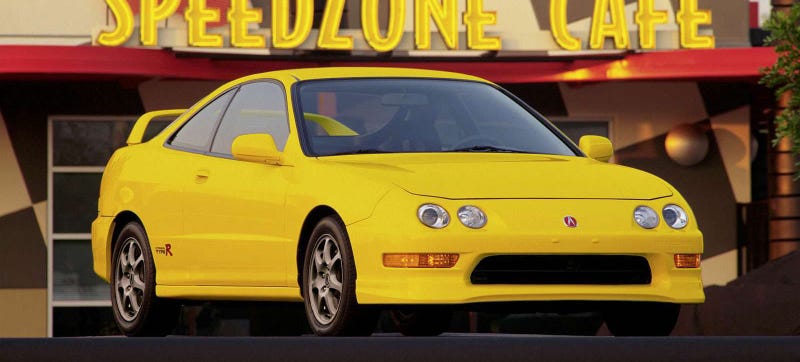 The headline on this Car and Driver story is "A New Acura Integra? 'Just Wait,' We're Told," which makes you think there's really a new Integra in the Acura pipeline. But when you analyze the quotes from Acura chief designer Dave Marek, it's not that simple.
Marek says Honda made a lot of mistakes with Acura, including trying to go too upscale; they've also suffered in the wake of the recession and the big Japanese earthquake. But he says it will be a while, possibly not until 2017, before we see a more affordable performance car from the brand.
Mostly the story is Marek admitting that while his brand boasts very strong sales among Normals — the MDX is a perennial favorite and the new TLX is a hit too — they've all but entirely lost the enthusiast buyers who once coveted Acura's affordable performance cars in the 1990s and early 2000s.
This is nothing new; hearing someone from Acura admit it kind of is.
Marek said the company knows that it has a lot of rebuilding to do to restore Honda's luxury brand back to its 1990s heyday. Back then, the Integra was an attainable car for young enthusiasts and the core of its claim to performance credibility, while the NSX was an exotic aspirational flagship. Several Integras and NSXs were spotted at this year's SEMA show, even though they've both been out of production for years.
Indeed. We all miss those cars. But then Marek says this:
"A performance brand needs a flagship and it needs an accessible sport car. Not a sports car, but a sport car."
What the hell is a "sport car"? I've never really heard that term before. Does he mean sport coupe, which is a broader term than the purer "sports car" and could thus include front- or all-wheel drive offerings? I don't know.
Whatever it is, the refreshed 2016 ILX sedan on display at the LA won't really be it. "It's not what our direction is going to be, but it's a step in that direction," Marek said. Okay then.