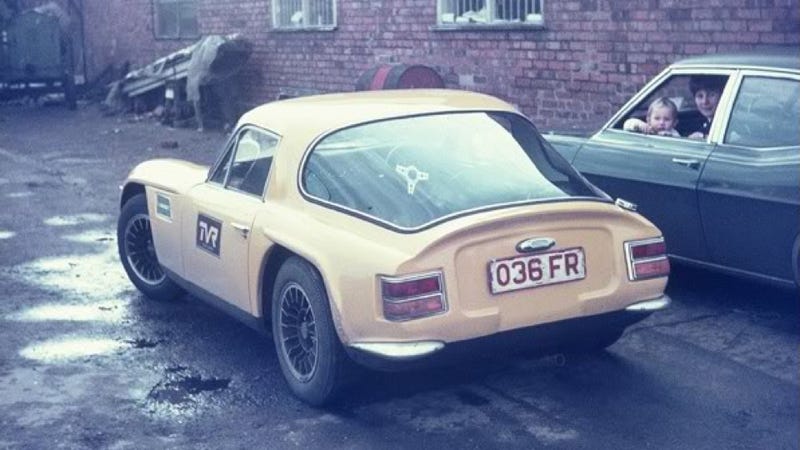 Being a gearhead tends to be an inherited trait. There are tons of car guys and car gals out there who learned to love driving, engines, and racing thanks to their fathers or mothers or some other significant person in their family.
Patrick Herald of England was practically destined to become a gearhead, thanks to his dad. Through the 1960s, his old man owned great cars like a Lotus Six, a Jaguar XK120, a few E-Types, and then one of his favorites: a yellow TVR Tuscan V6.
Eventually, his dad sold the TVR. Nearly four decades later and through random happenstance, Herald would end up rescuing that exact car and beginning an extensive restoration. Here's how he did it.
Herald has been telling the ongoing saga of the restoration over at the Pistonheads forum since late December. He let Jalopnik share his story and his photos.
The story goes that Herald's dad picked up the TVR in early 1971, and it may have been one of the first cars to emerge from their then-new factory at Bristol Avenue. He later painted the tail black and enjoyed it for several years before he sold it to a local enthusiast. "Apart from the fond memories, that is where the story seemed to end," Herald wrote.
Herald's father passed away in 2001. Here's what he said about his old man:
He was only 63 and had been retired less than eighteen months. He was my best friend. We had spent countless days together, whether it was fettling old cars and bikes, doing a bit of sprinting and hillclimbing or just chatting about cars over a pint.
Then on a fairly recent evening, Herald said that his wife was away for the weekend and his kids were in bed when he was browsing eBay and enjoying a drink when he stumbled on to something very interesting — and familiar.
"Through bleary eyes I reflect that Dad used to have one just like it," he said. "Then I look at the final photo and see the registration... At which point I sobered up pretty quickly."
Herald called up an old acquaintance, who knew his father when he owned the TVR and coincidentally also knew the man who was selling it on eBay. He went to see the car, and while it was "absolutely fecked," it was indeed his father's. His mind was made up. He would monitor the auction for a few more days, and with 15 seconds to go, he punched in the winning bid.
As Herald tells it, the man who bought the TVR from his father only drove it for a short time before parking it beside his house and letting it deteriorate for 30 years. It's in terrible shape but only has 25,000 miles on the clock. (I know, I'm as outraged as you all are on that one, too.)
So now, Herald has begun an immense restoration project, one he sold his Lotus to help finance. As you can see here, it needs a ton of work, and a new gearbox and engine — possibly a V8 — may be in order. Herald told me that now, the body and chassis have been pulled apart. He said he will be stripping the running gear from old chassis and then taking it to be measured up for a new one.
Herald closed his post by saying this: "I'm absolutely overwhelmed that I've got the car, despite the state that it is in." He just wishes his dad was around to help with the rebuild.
Be sure to click over to Pistonheads for the full story and more photos, plus ongoing updates on how it's going. I know we'll be keeping an eye on it, and I wish him the best of luck.
Do you have a family member's car you'd like to restore someday?
Photos credit Patrick Herald. Used with permission.
Hat tip to torquespeak!