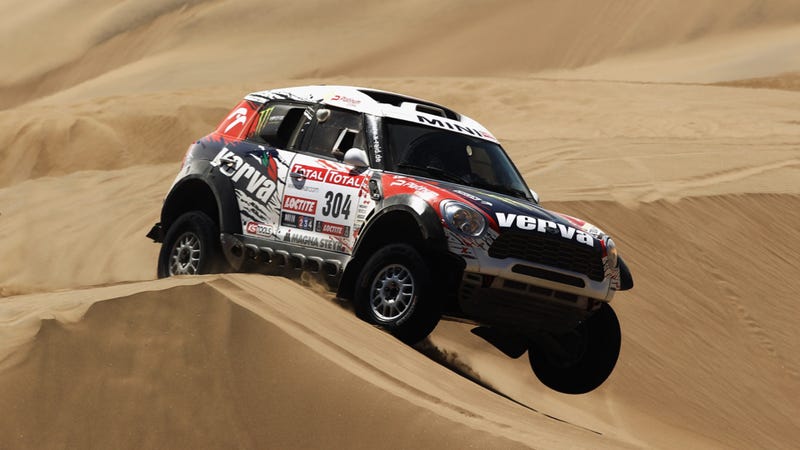 Welcome to the Jalopnik Weekend Motorsports Roundup, where we let you know what's going on in the world of racing, where you can see it, and talk about it all in one convenient place. Where else would you want to spend your weekend?
Happy first motorsports roundup of 2013, racing fans! The good news is that for the first time in a while, we finally have some decent stuff on tap on this weekend. Or at least, some things that are a bit different from the norm.
First up is the premiere of the 2013 Dakar Rally, which starts this weekend in Lima, Peru. (It doesn't take place from Paris to Africa anymore, and hasn't in several years.) Those of you lucky enough to have the NBC Sports Network will be able to check it out, which is good because someone has to watch that channel.
Also this weekend is the first broadcast of last year's Mint 400, the great American motorcycle and four-wheeler race out in the Nevada desert. It's not live, but it's usually awesome to watch. Fans of Hunter S. Thompson should note that he was sent to cover that race in 1971, resulting in the drug-fueled sequence of events that became Fear and Loathing in Las Vegas. Don't say ol' P. George never taught ya nothin' about literature, ya hear?
Finally, we have a bunch of touring car races from earlier this year. I'm not one to say no to that and I doubt you are either.
As always, let us know what we missed — and if there's any good live streams out there — in the comments. Enjoy your weekend.
Photo credit Getty Images
Hat tip to McNewbie!
All times Eastern
Saturday, Jan. 5
Lucas Oil Off Road Racing Pro4 and Superlite
Wild West Motorsports Park
Reno, Nevada
4 a.m. on SPEED
(Race from Aug. 24)
2012 General Tire Mint 400
Jean, Nevada
2 p.m. on SPEED
(Race from March 24)
Lucas Oil Off Road Racing Pro4 & Pro Buggy
Las Vegas Motor Speedway in Nevada
3 p.m. on SPEED
(Race from Sept. 20)
Optima Ultimate Street Car Invitational
Road America
Elkhart Lake, Wisconsin
4 p.m. on SPEED
(Race from June 24)
FIA World Touring Car Championship Round 6
Salzburgring
Salzburg, Austria
5 p.m. on SPEED
(Race from May 20)
British Touring Car Championship Round 6
Snetterton Circuit
Norwich, England
6 p.m. on SPEED
(Race from Aug. 12)
Sunday, Jan. 6
2013 Dakar Rally
Lima, Peru
2:30 a.m. on NBC Sports Network
Check listings for your provider here
German Touring Cars (DTM) Round 7
Munich Olympic Stadium
Munich, Germany
1 p.m. on SPEED
(Race from July 15)
FIA GT1 World Championship Round 6
Slovakiaring
Bratislava, Slovakia
6 p.m. on SPEED
(Race from Aug. 18)