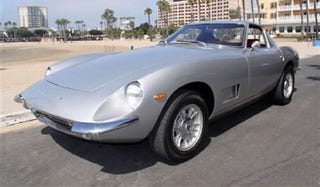 Hybrid cars didn't always mean ICE/electric drivetrains, that term was previously applied to furrin cars with American thumpers. Today's Nice Price or Crack Pipe Intermeccanica is a prime example of such a hybrid, but is its price too high to warrant a bid?
What better way to start out the year than with a decisive Nice Price win? That's just how yesterday's über clean 1987 BMW L7 rolled, earning the favor of 66% of you for its $7,500 price tag, and the animus of PETA members everywhere for its all animal hide interior accouterments.
Of all the small foreign car makes to have sprung forth in the fifties and sixties - brands such as ISO, Bizzarini, Gordon Keeble, OSCA, Marcos, and Lamborghini - those that remain today could be counted on the fingers of one hand. One of those - cars not fingers - of which you may not even be aware, is Intermeccanica, a company that has had more lives than the Kama Sutra has ways to throw out your back.
Founded in Italy by Canadians Frank and Paula Reisner in 1959, the company started out making speed equipment for Fiats. Parts led to cars and the creation of a successful Formula Junior racer which was followed by the '60 InterMeccanica IMP which won its 500-cc class on the Nurburgring. That caused competitor and poor loser Carlo Abarth to demand Styer Puch no longer provide Reisner chassis for his cars.
Undeterred , the Turin-based company debuted a larger coupe powered by an American V8 - the Apollo - in 1961. That car spawned the Griffith, named for American importer Jack Griffith - yes, the same guy whose idea it was to wedge a289 in a TVR - but his financial difficulties soon required that he drop from the picture, and the car was was renamed the Omega. This became the Torino, which was renamed the Italia as the Blue Oval boys had trademarked Torino in the US, and while willing to sell Intermeccanica 302s, they were less eager to do so with nameplates.
Today we're looking at a restored 1969 Italia Coupe, but it should be pointed out that Intermeccanica's history extends to present day as a Vancouver-based builder of highly respected Porsche Speedster replicas, and prior to that included the building of John Fitch's Corvair-based Phoenix, their own 429-powered Murena sport wagon, and Indra developed in partnership with Germany's Erich Bitter.
So very much history to be sure, but what we're concerned about today is this Ford-powered Italia and whether its condition, rarity, and desirability are worth its $79,500 asking price. This particular car - one of about 400 Torino/Italias built - has been around for some time, with substantially higher pricing. Now, the silver over red and black coupe is being dangled with a sub-eighty grand asking, to see if anyone will bite.
The Italia is powered by Ford's rock solid 302-cid V8, topped by a 4BBL, and partnered with that company's 4-speed manual. Suspension is a mix of Fiat, Alfa, and unobtainium so the declaration that this car is well-maintained should thankfully stave off any need to source things like the Bilstein shocks that are no longer made.
That claimed restoration and maintenance has resulted in a car that looks very smart, riding on a set of period-correct Dino Cromadoras, and seemingly maintaining all its trim and badging. Panel fit - an important consideration should a new owner want to show the car competitively - is impossible to judge from the pictures provided, but at the very least everything seems to shut as it should.
The interior is equally well kitted out and has the added benefit of an under-dash A/C unit to keep your passenger's nether regions from suffering the sweats. Even the radio is a sixties unit rather than a jarring modern job, making the whole interior look a piece.
The ad claims the car has but 34,903 miles, and has seen over $42,000 in work undertaken within the past decade to maintain it in its present condition. That condition includes some cracks in the paint on the hood and deck which detract from its claim of past trophy wins, but are not within reason to dun the car as a whole. In fact, the custodial efforts afforded this car seem admirable and without warrant of complaint.
The question for you of course, is whether the same could be said of this Italia's price. What do you think, is this Intermeccanica worth $78,500? Or, is this an Italia whose price makes it an I-don't-want-a?
You decide!
AutoTrader Classics or go here if the ad disappears.
Help me out with NPOCP. Click here to send a me a fixed-price tip, and remember to include your commenter handle.