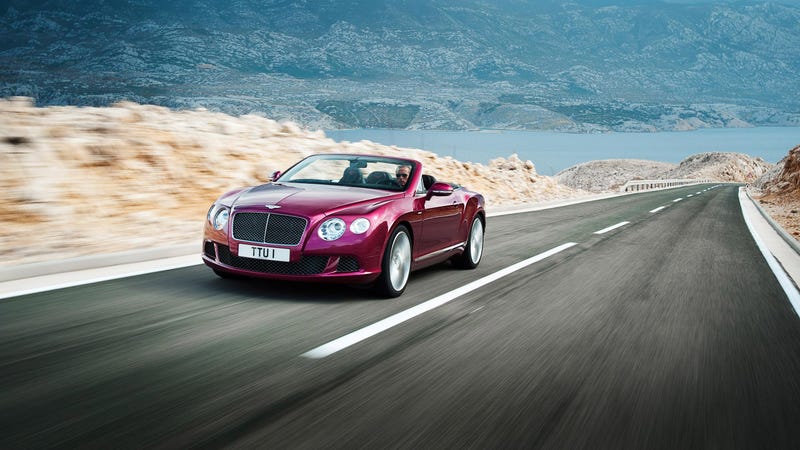 Bentley's newest Continental GT Speed Convertible is not only the worlds fastest four-seat convertible, but it's also something you can get in garnet. That great news for all the pimps Union College Dutchmen out there, but let's hope the heads at Crewe will choose a different color for its international debut at the Detroit Auto Show later this month.
We've shown you the photos already, but now we've got the official and predictable (but no less interesting) details. The fastest open-top from Bentley comes with a W12, as you would expect, and it packs quite a punch thanks to its twin-turbocharged 625 horses. At 5,500 lbs, the convertible is almost 400 pounds heavier than the GT Speed Coupe, so the 275/35 tyres have to deal with quite a lot while getting all of the 590 lb-ft of torque through the 40:60 (front/rear) permanent all-wheel drive system. To handle all that power, a close-ratio eight-speed ZF automatic transmission is standard. This also saves 15% of the petrol than the previous model demanded. That of course is only true when the 'Sport' mode is switched off. When it's on, the box will jump from 8th to 4th without hesitation the moment you floor it.
To minimize body roll, the open-top sits 10mm closer to the ground than its hardtop brother, while a tiny duck tail on the boot lid helps the car stay on the road at its 202 mph top speed. Anything else you need to know? Inside, it has all the luxuries you can ever need, and some more, while the infotainment system can store up to 15 gigabytes of... it doesn't matter because all that music will be on your iPhone.