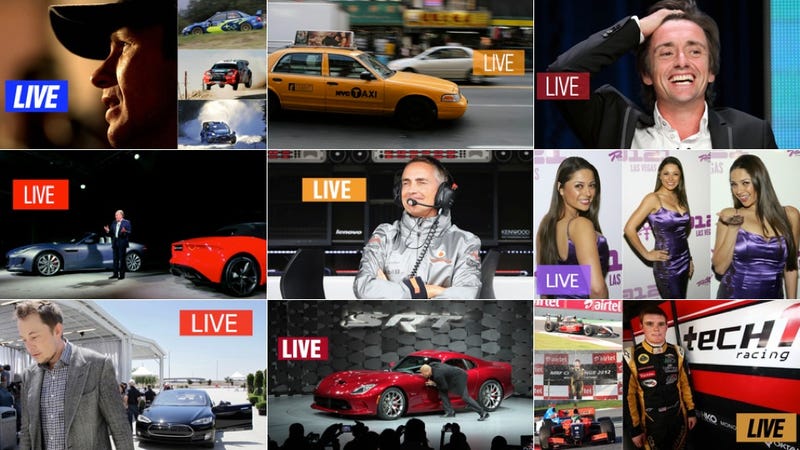 One of my favorite new Kinja features this year was the ability to do live Q&As with the most important people in the automotive universe. We had world champion drivers alongside one of the world's most beautiful gearheads and everything in between.
Executives went off their script and designers took you inside their visions. You asked Richard Hammond about his teeth and provoked Elon Musk to talk about his unique fears.
Here are our favorites.
---
Welcome to yet another installment of Jalopnik Live, where we let you ask the newsmakers and stars of the automotive world the questions that you really want to hear the answers to.
Today's guest is a true international automotive superstar. More »
---
When everyone was running away from electric cars, Elon Musk invested in them with Tesla. When the government was reducing its commitment to space, Elon Musk started SpaceX. More »
---
If you were born a gearhead, Ralph Gilles is essentially who you wanted to be when you grew up. Like most of us, Ralph started drawing cars when he was young, unlike most of us he turned that passion into a job at Chrysler where he became a break out star following the design of the company's... More »
---
America has not had a Formula One World Champion since Mario Andretti won the whole thing for Lotus in 1978. In fact, many argue that a competent Formula One driver hasn't come out of America since Mario Andretti.
But now there are a few talented Americans making waves in Europe on the road to... More »
---
A few years ago, Jaguar decided their cars were becoming stodgy. They looked the same for decades and had begun to stagnate. But then a product renaissance came around in the forms of the all new XK, XF, XJ, and last night it came full circle with the unveiling of the gorgeous F-Type... More »
---
We've finished qualifying here at the Austin F1 race and the McLaren team managed a second position with Lewis Hamilton just barely behind Sebastian Vettel and Jenson Button further down after a technical problem during qualifying kept him out of the top ten. More »
---
If you think it's daring to be a race car driver, then you have never actually watched someone drive a New York City taxi. Every day is a stint in an endurance race where things are constantly going wrong. More »
---
Pilar Lastra is a Playboy Playmate. She was a model on Deal or No Deal. She's a successful radio host. She's also the author of a book called Treat Me Like Your Car, which is a man's guide to treating a lady as well as his car. More »
---
Rallying is some of the toughest racing in the world. Drivers have to tackle changing weather conditions and roads that vary from gravel to dirt to tarmac. More »
---